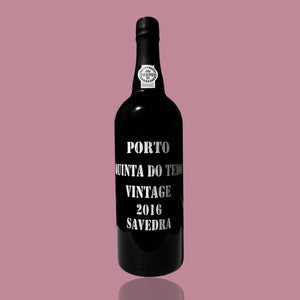 Production
Year - 2016, an excellent non-classic Vintage (between an also excellent 2015 and classic Vintage 2017!). 
Grapes - 24+ grape varieties from our estate's oldest (60+ year) field blended Savedra parcel.
Terroir - schist soil, Mediterranean climate (low yearly rainfall and dry, hot summers), grade A classified vineyards. 
Winemaking - hand-picked, estate-grown grapes undergo pre-fermentation line-up maceration with foot-treading in traditional lagares for 3 days followed by 3 days of temperature-controlled fermentation to more slowly extract the grapes' soft tannins, complex aromas, and rich colors. These characteristics are preserved while aging in minimal contact with oxygen in large 7000 liter (1850 gallon) foudres before being Vintage-quality approved by the IVDP and bottled, unfiltered, within 2 years of the harvest to, ideally, age for 10+ years in bottle. 
Annual Production - 1,500 bottles
Alcohol - 19.5%
Tasting
See -  deep ruby with purple highlights.
Smell - structured and focused, with racy acidity and exuberant black fruits (prunes, blackberries, black cherries) and cloves; elegant, balanced, and complex with some mineral freshness. 
Sip -  soft, deep and full-bodied; concentrated wild blackberry and blueberry; structured tannins lightly softened by minimal aging (to become more velvety over time aging in the bottle); long and persistent finish.
Enjoy - now or by 2030+, cool (15°C/60°F), aerate for 2 hours, and let the sediment settle before serving, on its own, or in the company of dark chocolate cakes, strong cheeses, friends, family, and other Vintage Port Wine aficionados/as!
Did you know? Port wines can accompany an entire meal! Younger Vintages, LBVs, and Rubies are especially suited for richer meats, strong-flavored game, and fowl, pungent aged cheeses, or those from the blue family, and chocolate, coffee or nut desserts. With 20+ years (a Tawny, or older Vintage or LBV) the Port wine takes on softer tannins and more elegance and pairs well with more delicate and creamy foods (even fish!) Do inquire about food pairing tips, we love sharing our kitchen and dining room Port wine adventures!