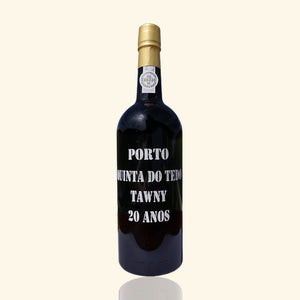 Selected Awards 



93 points - Mark Squires - Robert Parker: The Wine Advocate
Production
Year - a blend of high-quality harvests aged an average of 20 years.
Grapes - a field blend of Touriga Nacional, Touriga Franca and Tinta Barroca from our estate's older vines.
Terroir - schist soil, Mediterranean climate (low, yearly rainfall and dry, hot summers), grade A classified vineyards. 
Winemaking - hand-picked, estate-grown grapes undergo pre-fermentation line-up maceration with 3-4 hours per day of foot-treading in traditional lagares for 2 days followed by 2 days of temperature-controlled fermentation, by which the grapes' natural sugar is consumed and turned into alcohol by native yeasts. When the natural sugar levels decrease by half, we stop fermentation via fortification with grape brandy. The Port wine is then aged for a minimum of 15-25 years in neutral, French oak, 500 liter (130 gallon) puncheons and 225 liter (60 gallon) barrels before blending with other old Tawny ports to create an average of 20 years.
Annual Production - 1,100 bottles
Alcohol - 21.5%  * Considering 2%, known as the "Angel's Share", of Tawny Port wine evaporates out of the barrel each year, the alcohol becomes more concentrated, but also better integrated, into a balanced, complex and smooth aged Tawny Port wine.
Tasting
See - mahogany.
Smell - hazelnuts, iodine, walnuts, and caramel; with a tinge of vanilla and marzipan; very complex with great schist minerality.
Sip - sweet and racy, deeply concentrated and with great complexity; a Tawny Port wine truly refined and smoothened to its irresistible epitome over time; silky structure, long length, and intense finish.
Enjoy - now or within 10 years, chilled (10°C/50°F), by itself or with other simple, delicate and non-overpowering flavors; foie gras, aged gruyere or comté, almond tart, vanilla ice cream.