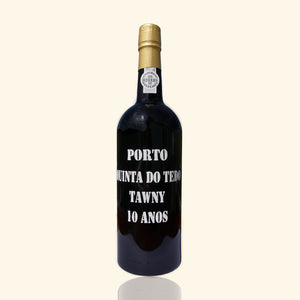 90 points - Mark Squires - Robert Parker: The Wine Advocate
SILVER - International Wine Challenge
SILVER - Concours Mondial Bruxelles
Production
Year - a blend of high-quality harvests aged an average of 10 years.
Grapes - a field blend of Touriga Nacional, Touriga Franca, and Tinta Barroca from our estate's older vines.
Terroir - schist soil, Mediterranean climate (low, yearly rainfall and dry, hot summers), grade A classified vineyards.
Winemaking - hand-picked, estate-grown grapes undergo pre-fermentation line-up maceration with 3-4 hours per day of foot-treading in traditional lagares for 2 days followed by 2 days of temperature-controlled fermentation, by which the grapes' natural sugar is consumed and turned into alcohol by native yeasts. When the natural sugar levels decrease by half, we stop fermentation via fortification with grape brandy. The Port wine is then aged for a minimum of 6-15years in neutral, French oak, 500 liter (130 gallon) puncheons and 225 liter (60 gallon) barrels before blending with other old Tawny ports to create an average of 10 years.
Annual Production - 2,400 bottles
Alcohol - 20%
Tasting
See -  brick brown with amber and orange highlights.
Smell - a very elegant and complex mix of dried fruits (walnuts, almonds, figs, peaches), anise, curry and burned caramel, with a tinge of iodine and discreet alcohol.
Sip - hazelnuts and prunes; the acidity and remaining youthful spice hold up the sweetness and alcohol perfectly and offer a voluminous but structured mouthfeel with a sweet, bitter, and persistent finish.
Enjoy - now or within 7 years, chilled (10°C/50°F), with roasted nuts (hazelnuts, almonds), savory marmalades (onion or mushroom) or spreads (foie gras, pork rillettes, chicken liver), with appetizers (bacalhau brandade stuffed gougères with romesco sauce), hard, aged cheeses (comté, parmesan) and cream-based, baked orchard fruit, or caramel desserts (crème brûlée, apple or pecan pie).
Did you know? When blending various years of Ports to create a Tawny Port with an indication of age (i.e. 10, 20, 30, etc), winemakers strive for a defined style and taste, rather than a mathematical average of years blended.