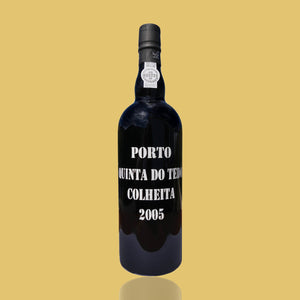 Production
Year - 2005; a dry year and a hot harvest full of expression.
Grapes - Touriga Nacional, Touriga Franca, Tinta Barroca, and a mixture of other varietals from our older vines. 
Terroir - schist soil, Mediterranean climate (low, yearly rainfall and dry, hot summers), grade A classified vineyards. 
Winemaking - hand-picked, estate-grown grapes undergo pre-fermentation line-up maceration with 3-4 hours per day of foot-treading in traditional lagares for 2 days followed by 2 days of temperature-controlled fermentation. When the natural sugar levels decrease by about half, we stop fermentation via fortification with grape brandy. This Colheita Port wine was then aged for 14 years in neutral, French oak, 500 liter (130 gallon) puncheons and 225 liter (60 gallon) barrels before bottling in 2019.
Annual Production - 800 bottles 
Alcohol - 20%
Tasting
See - brick red with amber highlights.
Smell - very expressive and spicy (perhaps from the hot year?) yet refined; a mix of semi-dried fruits (apricot, figs, pecans) with orange peel; a touch of licorice, anise, and curry.
Sip - balanced acidity and sugar with well-integrated alcohol; semi-dried fruits (prunes and apricots with still present acidity), bitter orange peel, licorice, and cinnamon spice that prevails in a persistent finish; Colheita 2005 has some unique kick! 
Enjoy - now or within 7 years, chilled (10°C/50°F), with roasted/curried dried fruits (walnuts, pecans, cranberries, sultanas), hard, aged cheeses (parmesan, queijo da ilha), savory chutneys (onion or tomato) or spreads (chicken/pork/duck rillettes or patés), with slightly acidic baked orchard fruit (plum, apricot) desserts.